The pain of loss from chronic illness or a life-threatening diagnosis is very real
Olivia's lupus struck during her second year in college. An art major, she noticed her hands hurt a lot, and thought it was just because she was drawing so much. But her other symptoms prompted her to see a doctor on campus, and she got the diagnosis at just 20 years old: you have a lifelong, disabling chronic condition. She left college and moved home. On some days, she is too fatigued to get out of bed; on others, she works as an advocate for other people with lupus.
Kyle's case was a bit different. He was much older, 55, when he was diagnosed with a condition called Meniere's disease. An avid cyclist, runner, and amateur mountain climber, he sought all the treatments except one that would have left him unable to cycle or climb. Instead, he sold his practice, retired, and is now adjusting to living a very different life than he expected.
Grief and loss when your health changes
Some readers will remember the Holmes-Rahe stress scale. It is a list of more than 40 stressful life events, each with a number. Having more than a certain number of stressful events in a year raises your risk for health problems such as a heart attack.
The events on this scale are also grief-producing events, and having your life change due to a medical diagnosis or chronic illness is high on the list.
When you are diagnosed with an illness or condition, or are injured, you may expect to feel shocked, scared, or angry. But you may not expect to feel sad. In fact, you may have long-lasting grief. "Chronic sorrow" has been found to be common in people with multiple sclerosis (MS), for example.[i]  The American Academy of Family Physicians lists "changes in your health or the health of a loved one" as a common cause of grief.[ii]
Coping with what you've lost
Fortunately, research also tells us there are ways to help ourselves and find the support we need on those days when helping yourself seems too hard. First, simply recognize that being diagnosed with a serious illness or chronic condition is a grief-inspiring event. Mind, body, and spirit are all affected by the pain of loss, including:
Loss of physical health and your self-image as a healthy person
Loss of cognitive ability due to illness, injury or medications
Loss of physical freedom or independence
Loss of the future you imagined
The AAFP experts recommend taking time to feel the loss. Cry, rage, acknowledge it, and don't keep it from everyone or try to act like everything is fine. For Clare, diagnosed with a rare spinal cord tumor in her 50s, holding it together worked until world-renowned experts evaluated her and agreed the cancer was inoperable. She broke down in a very public place, the airport, on the way home.
You may also want to defer major decisions, just as you would after other types of losses such as death or divorce. When Rob was diagnosed with Parkinson disease in his 30s, he and his wife decided kids were no longer an option. They tried adopting a dog, but the puppy's digging and chewing added more stress than they wanted to handle with Rob's new diagnosis. Friends took the puppy, while Rob and Cara took more time to adjust.
When you can't do what you used to do
Depending on the challenges your condition poses, you may need to develop new skills or take up new hobbies. "It beats having your life shrink to doctor's appointments, naps, and Netflix," says Marechal. (No judgment for days when that agenda works perfectly, of course.)
Bernardo, diagnosed with multiple sclerosis, went from being an avid backpacker to building birdhouses. He built so many that he now has a booth at the local farmer's market. Calvin, who has had schizophrenia for more than 30 years, started ballroom dance lessons with his wife to stay active and stave off some of the dulling effects of his medications. They now travel to ballroom dance competitions around the Southeast.
Corinne loves to draw and paint, but her condition caused shaky hands. "I walked into an art store one day and said, 'Here's my problem. Any suggestions?'" She switched to using pastels, where the shakiness isn't noticeable in the finished product. Marjorie, an avid reader, switched to audio books when age-related macular degeneration made reading printed books too difficult.
Reaching out to others can help
Getting out of your own head can help, and so can helping others. Many older adults live with at least one chronic health condition, from arthritis to heart disease – but you'll also see many of these people volunteering at your local hospital. You may not be able to push a wheelchair, but greeting visitors and giving directions and information can add purpose to your days.
Sharing your experiences online in a venue like Patient Power or Facebook can help, too. If you feel tired even after a full night of sleep, ask the group about it. Chances are, some of them do, too, and that helps everyone feel less alone.
Taking steps to heal the pain
You may not be able to heal your medical condition, but you can do things that help heal the pain of loss and the effects on your spirit and mind – which in turn can strengthen your endurance and energy. Watch this short interview with Dr. Wayne Jonas on taking charge of your health and well-being. You can:
How the pain of loss can help you take better care of yourself
Lakshmi was diagnosed in her 30's with a form of ataxia, a neurological disorder that causes problems with balance and muscular control. Having a debilitating condition is frustrating, but she says, "Being diagnosed taught me I hadn't been taking care of myself or listening to my body before. Now, I appreciate the good days so much more. I take vitamins, exercise more, and make my health a priority. The diagnosis showed me that I need to take better care of my health in general."
Spiritual losses can lead to the development of new practices and seeking new supports. Army veteran LaShawn returned from the Middle East edgy and emotionally "dead inside" after a year in combat. Adopting Ada, a Labrador Retriever, helped him calm down, re-evaluate life at home, and renew his capacity to connect emotionally. "She's made me better," he says. "Not just healed, but a warmer, more connected, more sympathetic person than I was before."
Where to find support
There are many options for finding support when you have an injury, chronic illness, or new diagnosis. The COVID-19 pandemic has made support easier to find in some ways, such as through online groups. If you prefer to meet and talk with others in person, this way of connecting is making a comeback. Some organizations and websites where you can find help are below.
The Mighty – An online community for people coping with chronic illness.
MyHealthTeams – Groups for people living with many different chronic conditions.
PatientsLikeMe – Online support for people with many different conditions, including mental health help.
PTSD Coach Online – For veterans, families, and anyone dealing with trauma and stress, from the US Department of Veterans Affairs.
Apps that help you cope
The Calm app offers meditations specifically for coping with physical pain, calming your anxiety (which develops easily when you're going to a scary doctor's appointment), and practicing gratitude. These very specific meditations can help even if you think meditation is not for you.
If you have migraine, insomnia, or both, free apps such as Migraine Relief Hypnosis (for Android) and White Noise Lite (for Apple and Android) can help you relax your body and get the sleep you need.
To find an app specific to your condition or situation, try typing its name into your favorite app store or simply searching the condition and the word "app" together. Many apps are free and can help you connect with other resources, such as online communities or tools to manage your health.
Resources
We offer many resources to help you on your healing journey. Here are some.
How Healing Works, by Wayne Jonas, MD – Explaining how mind, body, and spirit can work together in a revolutionary approach to healing yourself as a whole person.
Free, printable tools and guides
---
References
[i] Hainsworth MA, Burke ML, Lindgren CL, Eakes GG. Chronic sorrow in multiple sclerosis. A case study. Home Healthc Nurse. 1993;11(2):9-13. doi:10.1097/00004045-199303000-00002
[ii] American Academy of Family Physicians. Grieving: Facing illness, death, and other losses. December 2, 2019. Available at https://familydoctor.org/grieving-facing-illness-death-and-other-losses/. Accessed March 8, 2022.
---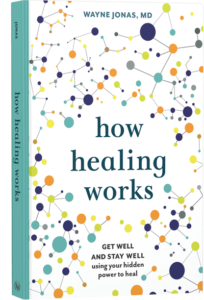 Take Your Health Into Your Own Hands
Drawing on 40 years of research and patient care, Dr. Wayne Jonas explains how 80 percent of healing occurs organically and how to activate the healing process.