Explore our free resources for every age
How do I know what I think until I see what I say?
—E. M. Forster
The British novelist E. M. Forster had a point. Writing your thoughts down can help you understand them, clarify them, and make plans. It can also, according to psychologist James Pennebaker and others, help relieve stress.
Although more studies are needed on just how much journaling helps specific health conditions, writing is one more tool that can support mental, emotional, and physical—whole person—health.
Free journaling resources
We are strong advocates of journaling because this intervention is generally free or low cost, involves no drugs or surgery, and is very safe. Articles on the benefits of journaling include:
April discusses different journaling styles, how to make journal writing a habit, and how she used journaling to cope with a diagnosis of stage 3 breast cancer in her 30s.
Learn about gratitude writing, which has been shown to help mental health, and get tips from professional mental health therapist and creative writer Sarah Saffian, LCSW-R, MFA, on how therapeutic writing can help your health.
Dr. Wayne Jonas discusses the specific benefits of journaling by sharing the story of a patient who used this technique to cope with chronic back pain. Journaling helped her understand her physical symptoms and realize she needed to cope with emotional traumas from her past.
A series of journaling tools developed by our therapeutic writing expert Sarah Saffian, LCSW-R, MFA, a mental health therapist and creative writer who walks you through exercises such as a letter to yourself, writing two versions of a traumatic or painful event, and more.
This free printable journaling tool includes blank lined pages for reflecting and writing. It is designed as a companion to our pocket guide "Women and Pain: Taking Control and Finding Relief."
Do you live with a chronic health condition? This free printable journaling tool with blank lined pages might be for you. Expert Sarah Saffian, LCSW-R, MFA, helps you work through issues of identity, self-care, and the need to let go of things that no longer serve you.
If you take care of someone, reflecting in a journal can be particularly helpful. You can choose from exercises that help you support your own health and find activities you enjoy. You can also write a letter to the person you take care of, redefine your goals, or give yourself advice.
Journaling from your 20s through your 50s … and beyond
Therapeutic writing can help at any age. Create a safe space in your journal to explore questions of who you are in your 20s, how to cope with being in the "sandwich generation" in your 50s, and much more. Career, relationships, growing, and aging are explored in these articles and tools.
No matter your age, don't hesitate to look at the resources listed for other age groups. You may find yourself a caregiver in your 20s, and the journaling tool for the 50s can help!
For health care providers
Finally, we offer a quick one-page guide to what therapeutic writing is and how to explain it to patients who may benefit from this as part of their healing.
To learn more about the whole person health model, visit DrWayneJonas.com or read How Healing Works, Dr. Jonas' book about helping people tap into their hidden power to heal, which is also available in audio formats.
---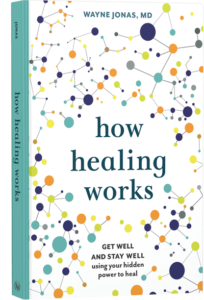 Take Your Health Into Your Own Hands
Drawing on 40 years of research and patient care, Dr. Wayne Jonas explains how 80 percent of healing occurs organically and how to activate the healing process.