Expecting your first child can be an exciting time. It's a joyful period of planning—choosing nursery room colors, picking out items that you'll need for the baby, and resting as much as possible before your baby arrives.
But it's also a time to start thinking beyond the baby years. Whether you're expecting your first or fifth, managing the health needs—from annual checkups to nutrition to fostering social relationships—is a big responsibility. It requires a lot of thought, planning, and even research, and it can often feel like an overwhelming task. As you shift from making decisions about your own health to thinking about how your choices impact your family, you may want to jot down a list of what is most important to you and your loved ones. Break up the list into categories—medical, nutritional, social—and expand on your family's specific needs or obligations in those areas.
Managing family health
Organization is key! The next section will offer suggestions in the areas of medical, nutritional, and social well-being. Consider displaying some of these suggestions with Post-it Notes, a notebook in a public place within the home, or a shared digital note. Here are things to think about.
Medical
Create a filing system for your family's medical history. Whether you prefer a paper folder or like to keep everything digital, a system of organizing vaccinations, health visits, and medications will help keep you organized.
Share important information with other caregivers. Create shared contacts for doctors, notes about allergies, lists of medications, etc. A master list, whether connected through the cloud or on paper, is a good reference for all caregivers so they know who to call if a problem arises.
Communicate with others in your circle about healthcare preferences. Much like when you fill out health preferences for your child's school, it's important that anyone who may be a caregiver for your child is aware of which hospitals you prefer or if it's OK for someone to give your child a certain over-the-counter medication, if needed.
Establish healthy habits with your children. Going to yearly wellness visits, getting recommended immunizations, and taking vitamins are all great ways to set a positive health standard for your children.
Nutritional
Document food allergies. Keep a list of food allergies and share with caregivers and friends whose homes your child frequently visits. Consider laminating a list that your child can carry in their backpack.
Communicate with others about dietary guidelines and preferences. If your child has specific dietary needs or your family has specific dietary restrictions, make sure that other caregivers, family, and friends are aware of those needs.
Establish healthy habits and food values with your children. Consistency is key in fostering healthy food habits with your children.
Social
Socialize early. Whether you are involved in playgroups, preschool, or day care, socializing your child early in their life has been shown to have a positive influence on their cognitive development.
Communicate with others about household rules and behavioral expectations. Consistency is so important with children. If they are expected to say "please" and "thank you" in your house, then ask other caretakers to keep them accountable as well.
Establish healthy social habits with your children. Making eye contact and saying "hello" and "goodbye" to their friends and family are good habits to start as soon as your child can speak.
Ask for help!
Whether you enlist your partner, parents, in-laws, or other caregivers to help, don't try to do it all yourself—you won't be able to do it! Plus, it's good for your children to be around—and sometimes be under the care of—other family members, friends, neighbors, and babysitters.
Here are some suggestions for keeping family activities and household duties organized:
Make a list of dinners that you and your family enjoy. Assign cooking and clean-up duty.
Track household duties on a shared calendar or whiteboard. Sometimes seeing how often something needs to get done (such as taking out the trash, waking up in the middle of the night with the baby, or cleaning the bathroom) will help drive home that these tasks need to be divided equally so that resentment doesn't set in.
Share responsibilities! Don't seek help just from other adults—kids love to help out, too! Often, they simply need directions on how they can help. A simple task such as gathering the napkins and utensils for dinner can be fun while also encouraging them to work with you as a team. Children are often more capable than they let on or than you might think.
Caring for yourself and partner caregivers
Taking time for yourself is as important as caring for your loved ones. Whether that means journaling, taking walks, or connecting with friends, it's always important to ensure self-care is a part of your routine. In this article, we'll explore methods of self-care.
Acknowledging your partner or family members for the help they give will also strengthen your relationship. Whether you leave them a love note or simply say it out loud, your partner will be happy to hear that you appreciate them.
In addition to thinking about your own personal health and self-care, planning for others—your children and even your aging parents—is a daunting task that can be stressful.
"The experience of parenthood is one of the most rewarding—and challenging—roles that you can have in your lifetime," said Dr. Wayne Jonas, author of How Healing Works. "The day-to-day stresses of raising children can take a toll on your own health. That's why it is so important to establish your own healthy habits. Things like taking a walk, journaling, or finding a hobby to get lost in are great ways to carve out time for yourself and ensure that you are healthy in mind, body, and spirit. To be a good caregiver means also caring for yourself."
Caring for others will strengthen who you are as a person. You become more thoughtful, more compassionate, and better equipped to juggle a multitude of tasks. But it's important to remember that you have needs, too. You must apply healthy boundaries and practice self-care so you don't exhaust yourself in the process of caring for your family.
---
This article is the second in the Legacy of Health Series. Read the previous article "Understanding the Needs of Your Parents as They Age."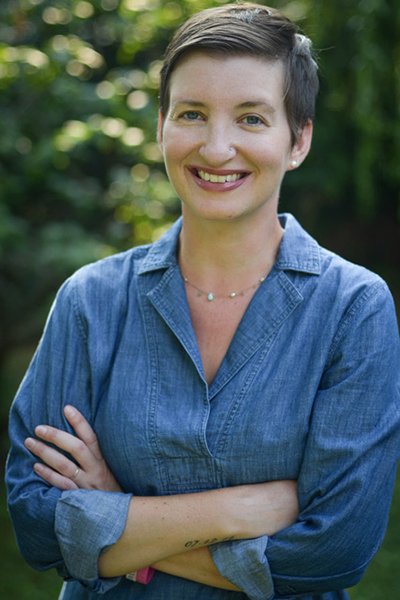 Meet Jenny Leyh
Jenny Leyh is a mother, freelance writer, cancer survivor and integrative health advocate living in Haddon Heights, New Jersey.