For most people and for much of our life, our parents are a source of support, guiding us through many important milestones.
We lean on them for advice and are influenced by their decisions. Their health habits become our health habits, and we maintain that legacy of health for ourselves and our families.
But what happens when your parents need your support as they age? What kinds of conversations must be had for you to better understand their needs and what they want for their future?
To begin, try breaking topics into smaller, more manageable conversations. This will help you to avoid feeling overwhelmed by this role reversal with your parents. And while it may feel uncomfortable at first, it is important to remember that just because these conversations are taking place does not mean you will be called to action immediately. Instead, use these conversations to create a blueprint that you can call upon to care for your parents as they age.
As you begin to have these conversations, there are several areas you will want to consider. What does their health look like now? What kind of social network do they have? What is their living situation like, and how might that be impacted by their health? Do they have specifications for end-of-life care? A will? An advanced directive?
Much like in the HOPE Note, the legacy of a health conversation with your parents can establish goals and preferences when it comes to their health and living situation. In a HOPE Note (Healing Oriented Practices and Environments), your doctor gets a clear picture of your unique health influencers. These determinants affect your health through areas such as nutrition, exercise, social relationships, and the environment in which you live.
You will need a similar blueprint for the conversations with your parents. The Institute for Healthcare Improvement's The Conversation Project provides excellent resources that will provide you with prompts that explore key areas in healthcare. These prompts, such as "What does a good day look like for you?" and "What wishes and preferences do you have for your care?" will help your parents, their healthcare providers, you, and your family to understand their wishes through the end of life.
"Finding meaning and purpose is the most important goal when it comes to our own health, and the same is true for those that we love," said Dr. Wayne Jonas, author of How Healing Works. "As our parents age, you may be called upon to take a more active role in their health and well-being. By having frank discussions about what is most important to them in life as well as their expectations for the future, you will be better equipped to support them in any way that they need."
Life outside the caregiving box
Maintaining relationships and connection with a community is imperative for mental health. Your parents may already have a solid social circle. But if they don't, there are many outlets that they can take advantage of in order to establish and maintain a social network outside of their family. Encouraging them to get involved in community groups is a great way for them to become civically engaged with their neighbors. And that will help take some pressure off of you.
Your parents should consider what their living situation might look like if it had to change for health or financial reasons. Would they consider staying in their home or downsizing to a smaller home? Would they be comfortable with a home health aid? Or would they feel more comfortable in an assisted-living facility? It is good to plan ahead instead of waiting for an emergency and then struggling to find a fast but maybe poor long-term solution. Where you live and your surroundings have a profound impact on your individual ability to heal. The concept of downsizing can be a stressful area to tackle—just think of all the possessions that your parents have accumulated over the years! But it is a transition that may, eventually, be necessary.
Watching your parents move out of your childhood home may be stressful for you. The security of that environment is gone, and all you are left with are the memories. The healing power of your environment can have a large impact on your mental well-being. The Caregiver Guide offers suggestions on how to create an optimal healing environment for yourself in spaces like your home, school, or office.
Mental Health: Your parents' and yours
Beyond establishing a blueprint for their medical wellbeing, caring for and supporting your parents as they age can have an impact on your mental health. And this is a lot when balancing a full-time job, parenting, and the financial strain of being a caregiver.
According to the American Psychology Association's 2007 stress survey, mothers in the "sandwich generation"—between the ages of 35 and 54—experience more stress than men as they manage the demands of work, parenting, and caring for aging parents. The same study also found that women were more likely to manage their stress poorly.
Caring for others is always stressful, even when things are going smoothly. It is important to take time for yourself whenever you can to maintain a healthy mental state. You are juggling many responsibilities in multiple areas—caring for your family, work, home, and now for your aging parents—and it is a lot!
As you face these challenging conversations, be sure to be direct with what you can and cannot do. For example, you might be able to help coordinate medical visits by phone; however, work or distance might prevent you from driving them to their appointments. Your job is to act as a health proxy and make suggestions, but you cannot force them to do things that they do not want to do. It is important to maintain a healthy balance of your needs and boundaries so that you can be the best caregiver possible for your parents.
---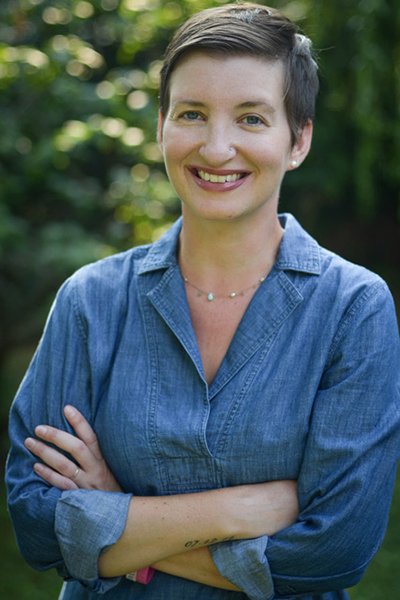 Meet Jenny Leyh
Jenny Leyh is a mother, freelance writer, cancer survivor and integrative health advocate living in Haddon Heights, New Jersey.