Recently, experts from the Harvard Medical School published a study on some of the best exercises you can ever do. It is a comprehensive list of five exercises that will help you get in shape and lower your risk for disease, "no matter your age or fitness level."
In the spirit of a new year certain to have many health resolutions and goals to strive for, I thought I'd put together my own list, based on my years as an integrative health expert.
Also in the spirit of kicking the year off right, I was excited to share the three exercises from my treadmill desk (highly recommended)! Watch the video below and find resources at the end of this post.
Tai Chi
Not only have I been practicing Tai Chi for 40 years but we now know the immense benefits it can have on both your body and your mind. If you're interested in learning about this moving meditation check out our pocket guide.
Be sure to use my new Tai Chi demo video to help you get started.
Walking
Something as simple as walking is so often overlooked but this exercise can help prevent memory loss as you age, not to mention lower the risk for many chronic conditions.
To learn more see our pocket guide about the keys to successful aging.
Strength Training
No need to leave the house and head to the gym, nor do you need to purchase expensive, specialized equipment. Just start with simple resistant approaches or use whatever you have around the house.
Activity helps nearly every condition and improves your well-being, to learn more about strength training see some of our previous blog posts on how exercise can be used to treat depression, improve bone health, and combat negativity in isolation.
To find all of our pocket guides, check out the tools section on our website. It is filled with resources and information to help guide you on your journey to achieving whole body health and healing. 
---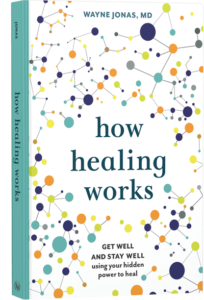 Take Your Health Into Your Own Hands
Drawing on 40 years of research and patient care, Dr. Wayne Jonas explains how 80 percent of healing occurs organically and how to activate the healing process.