I don't need to tell you that wisdom comes freely with age. And that wisdom can be offered in a variety of forms from those among us well into their later years.
In my own "advanced" years in medicine, I've found that health advice from anyone over 65 is almost always fascinating and often quite valuable. Of course, while healthy aging should always be the goal, how exactly one defines "healthy" is particularly eye-opening as it provides a unique perspective on the lives of the individual asked.
As we come to celebrate healthy aging for women this month, I thought it was important to share how those aged 75 and older defined "wellbeing" and what it means to them. Interestingly, researchers were able to divide their answers into four main categories. Here's a sample of what they had to say.
Physical/Environment
"You're able-bodied, you don't have any health problems and do your own work and [handle] problems you have to deal with in your routine."
Physical and financial security and the sense that "mentally everything [is] going OK."
Mind/Spirit
A good mental perception of yourself and your environment and people and relationships around you.
Absence of dementia, feeling good (mentally), having a good memory, absence of depression or cognitive problems.
Lifestyle/Behavioral
The ability to do things and be with people "Feeling well enough to do everything you wanted to do and being happy to get up in the morning," or, at least, "being able to do some of the things that you used to."
Not being afraid of death, an easy death, a nice death, a painless death.
Social/Emotional
Living in harmony, a rich life, a balanced life, a normal life, a happy life, living in peace.
Doing things for the family (taking care of grandchildren or a partner), helping others, being a member of an organization, having social interactions and relationships with others.
These quotes and sentiments are a brief look at what it means to "age well" from those currently striving to achieve it. They are helpful in guiding our journey of healthy aging and providing realistic goals for the rest of us to aim for.
Not so coincidentally, the research reinforces these answers, finding that the three factors related to successful aging are maintaining physical function, your cognitive function (i.e. memory, decision-making, etc.) and continued involvement in social activities and productive pursuits.
So, as we begin the new year, and a new decade, join us in our celebration of successful aging for women and help us share all the insights and wisdom that can make the latter part of our life just as rich and fulfilling as the rest.
For more information, see the full Successful Aging pocket guide here.
---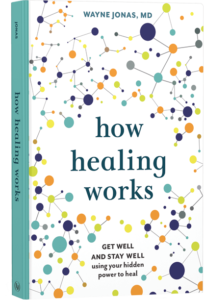 Your Health Into Your Own Hands
Drawing on 40 years of research and patient care, Dr. Wayne Jonas explains how 80 percent of healing occurs organically and how to activate the healing process.